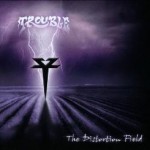 Trouble's first album with vocalist Kyle Thomas (ex-Exhorder) and eighth overall in a career that has seen their influence and critical acclaim outstrip their commercial success, The Distortion Field (FRW) not only restores faith after the less than stellar Simple Mind Condition but serves to remind of the quality this oft overlooked forefather of stoner and doom metal has to offer.
It goes without saying that Thomas has large shoes to fill, stepping into the void left by distinctive and iconic vocalist Eric Wagner, but he sets about his task well, opening up on 'The Broken Have Spoken' and the potential live stormer 'Hunters Of Doom' in a way that feels like he's been part of the group all his life. It does go without saying that there remains a nagging feeling The Distortion Field would have been even better with Trouble's true pipes of doom belting out over the Sabbath-ian vibes, but Thomas does as well as anyone.
Showcasing all the elements you'd expect of a Trouble album in a heady mix of stoner, doom and psychedelic metal, The Distortion Field kicks off with a rocking trio of grin inducing head-nodders, resplendent with easy bluesy downtuned riffs that tip the wink to Sabbath, St Vitus and their own back catalogue, all beautifully captured with vintage tones to their guitars. With the tempo of the opening exchanges at the stoner, bouncy end of doom, 'Sink Or Swim' takes the first dark plunge in a turn reminiscent of 'Letters From Earth' from Dehumanizer, before 'One Life' and 'Have I Told You?' mix the hippy with the doom before 'Hunters Of Doom' brings back the headbanging chug.
At thirteen tracks, and an hour long, The Distortion Field does feel like it outstays its' welcome slightly, particularly as it is front-loaded and tails off with a couple of stodgier tracks, but with strength in numbers throughout the first 8 tracks especially, this, like the longing for Wagner, isn't a deal breaker. Though this is no Psalm 9 or The Skull (very few albums are…) Trouble have produced a more than worthy addition to their legendary canon.
7/10
Steve Tovey
Trouble – Facebook