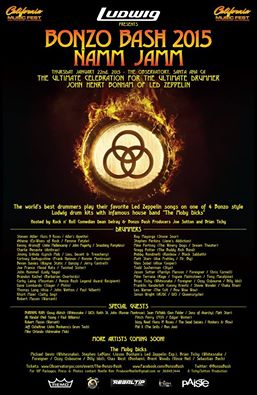 The 2015 Bonzo Bash NAMM Jam! will be happening at The Observatory in Santa Ana, CA on Thursday, January 22, 2015, with an all star cast set to perform.
With Bonzo Bash creator Brian Tichy newly endorsed by Ludwig-Musser Drums and Percussion, the legendary Ludwig is revealed as the main sponsor of the highly anticipated 2015 Bonzo Bash NAMM Jamm! Led Zeppelin's John Henry "Bonzo" Bonham is consistently regarded as the #1 drummer in rock. Bonham played Ludwig drums his whole career and his name is synonymous with Ludwig.
Having Ludwig sponsor Bonzo Bash gives an added authenticity to the celebration! Tichy/ Sutton Productions is very excited to have the two entities come together, all in the name of John Bonham!
The following artists have been confirmed to participate in this year's Bonzo Bash:
DRUMMERS:
Steven Adler (Guns n' Roses / Adler)
Athena (Femme Fatale / Ex-Wives of Rock)
Kenny Aronoff (John Mellencamp / John Fogerty / Smashing Pumpkins)
Charlie Benante Fan Page (Anthrax)
Jimmy D'Anda (Lynch Mob / Lies, Deceit & Treachery)
Bevan Davies (Wayne Static / Danzig / Jerry Cantrell)
Cortney DeAugustine (Frank Hannon Band / Ronnie Montrose / Michael Lee Firkins)
Joe Franco (Good Rats / Twisted Sister)
John Hummel (Lady Gaga)
Brandon Kachel (Barbarian Overlords)
Corky Laing (Mountain / Bonzo Bash Legend Award Recipient)
Thomas Lang (Asia / John Wetton / Paul Gilbert)
Dave Lombardo (Slayer / Philm)
Khurt Maier (Salty Dog)
Roy Mayorga (Stone Sour)
Stephen Perkins (Jane's Addiction)
Mike Portnoy (The Winery Dogs / Dream Theater)
Gregg Potter (The Buddy Rich Band)
Bobby Rondinelli (Rainbow / Black Sabbath)
Glen Sobel (Alice Cooper)
Matt Starr (Ace Frehley / Mr. Big)
Todd Sucherman (Styx)
Jason Sutter (Marilyn Manson / Foreigner / Chris Cornell)
Mike Terrana (Rage / Yngwie Malmsteen / Tony Macalpine)
Brian Tichy (Whitesnake / Foreigner / Ozzy Osbourne / Billy Idol)
Franklin Vanderbilt (Lenny Kravitz / Stevie Wonder / Chaka Khan)
Les Warner (The Cult / Bow Wow Wow)
Simon Wright (AC/DC / DIO / Queensryche)
SPECIAL GUESTS:
Burning Rain (Doug Alrich / Keith St. John / Sean McNabb / Matt Starr)
Host: Dean Delray (Rock n' Roll Comedian)
Ali Handal (Neil Young / Paul Williams)
Robert Mason (Warrant)
Jeff Ocheltree (John Bonhams's drum tech)
Mike Orlando – Fan Page (Adrenaline Mob)
Mitch Perry (MSG / Edgar Winter)
Dizzy Reed (Guns N' Roses / The Dead Daisies / Hookers & Blow)
Phil X (The Drills / Bon Jovi)
The Moby Dicks: Michael Devin (Whitesnake), Stephen LeBlanc (Jason Bonham's Led Zeppelin Exp.), Brian Tichy (Whitesnake / Foreigner / Ozzy Osbourne / Billy Idol), Chas West (Bonham), Brent Woods Music (Vince Neil / Sebastian Bach)