For Part II of our interview with Adam Zaars of Tribulation, Ghost Cult's Armen Haczmerian touched on a few more topics surrounding the new release, The Children of the Night (Century Media). It will be released in a few different formats. Century Media has also prepared a special box release with extras such as… a pendant with cord. But jokes aside, the band has added a couple of extra tracks to that release.
"There will be two bonus songs on the CD. One of them is 'Laudanum Dreams', we had released on our last 7″ we were selling on our last tour in America. The other one is a cover of The Cure's 'One Hundred Years'. We like this song and recording it went really well. There are also two demo songs on a 7 inch EP, which is also included in the box release. Also, we might publish another cover we recorded in the future. I can't reveal anything now, you will find out soon (laughs)."
Signing to one of the biggest players in heavy metal market, Century Media, which is another shift from band's recent stance on big labels. But Adam offers a firm clarification.
"Century Media has been great so far. To make things clear – we wouldn't have signed a deal with any label that didn't put us in full control when it comes to song writing. The reason we signed was purely commercial – to get a better promotion… and so far it seems to be working! We don't regret not signing to a bigger label before releasing The Formulas of Death. But we've always known we're something else… shape-shifters, I guess", Adam chooses his words carefully but with confidence. "I think it was the right time for us to show everyone what Tribulation is really about. It was great to work with Invictus and Ajna Offensive, but we can't stay in one place for too long. So when we got a real chance to show everyone what Tribulation is, we made the decision."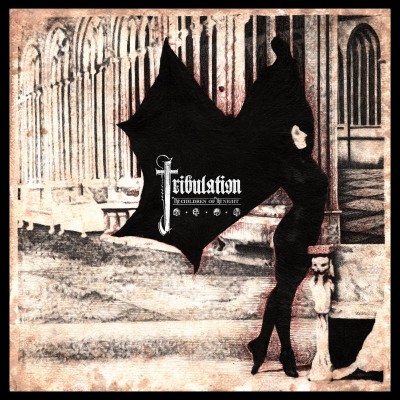 Tribulation hit the road again in April, before going on European tour with Melechesh and Keep of Kalesin in May. Adam speaks of the band's touring plans for the next few months.
"We have not many festival dates confirmed as yet, but we're playing at Tons of Rock in Norway in June. We will be at Temples Festival in Bristol in May, and Hellfest in France a month later as well. We are not planning a UK tour at the moment, but we play at London's Incineration Fest, and Temples so at least we have two dates in the UK now (laughs)."
Speaking of touring, there were huge controversies on Tribulation's recent Polish tour with Behemoth, who were the headliner. One show in Poznan was cancelled, and all the supporting bands played in a different (and smaller) club.
"Well, it's quite bizarre, I'd say. Especially for us, coming from a very secular country like Sweden. It would never happen over here! It was a huge shame, that local government was persuaded by religious fanatics, and managed to get the show cancelled. Those groups of catholics were protesting outside venues on every show. But that was fine! It actually helped the tour (laughs). However, it's ok to speak your mind up, but if you try censoring, it just turns really ugly."
Tribulation are destined for success, as their music gather new auditorium, and their style expands further beyond the frames of death metal. But while we can be sure the band will be constantly evolving, Adam does not rule out a return to more vicious and primal variety. Perhaps teaming up with Tobias Forge again, and doing another long-awaited Repugnant record would be an idea?
"Of course! I still listen to the extreme music, so I'm still into it. Tribulation is a journey, it's something else now, and also at the moment I'm quite busy with the band. But in the future, why not?"
ARMEN HACZMERIAN