AXS TV will be launching an all new original music series Breaking Band on Sunday, January 24, 2015 at 9:30 PM EST. The documentary style series is hosted by Donovan Leitch (of Royal Machines) and features six 30-minute episodes of the country's most talented emerging acts to be mentored by Mark McGrath (Sugar Ray); chart-topping music artist Belinda Carlisle (The Go-Go's); rock legend Robin Zander (Cheap Trick); award-winning producer and techno star Moby; master of metal Sebastian Bach (Skid Row); and beloved guitar guru Dave Navarro (Jane's Addiction). Breaking Band was filmed at YouTube Space LA, and concert highlights are available on youtube.com/axstvconcerts.
The Complete Episode Schedule is as Follows (All Times Eastern):
• Dave Navarro mentors "Andie Case" (Seattle-based band) – Jan. 24 at 9:30 p.m.

• Moby mentors "Runaground" (Los Angeles-based band) – Jan. 31 at 9:30 p.m.

• Sebastian Bach mentors "Santa Cruz" (Finnish band) – Feb. 7 at 9:30 p.m.

• Robin Zander of Cheap Trick mentors "Set The Charge" (New York-based band) – Feb. 14 at 9:30 p.m.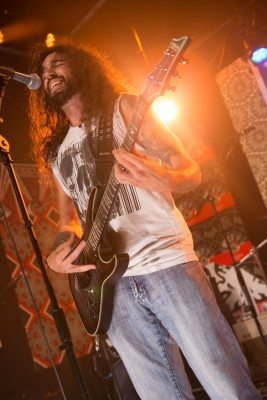 • Belinda Carlisle mentors "Sick of Sarah" (Minneapolis-based band) – Feb. 21 at 9:30 p.m.

• Mark McGrath mentors "Stick Figure" (Los Angeles-based band) – Feb. 28 at 9:30 p.m.