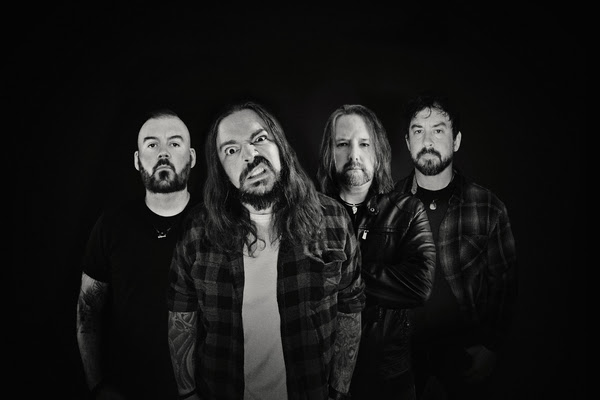 With live in-person shows a distant memory here in 2020, many bands are turning to technology to satiate their fans' insatiable appetite for live music. Streaming is how many are seeing their favourite bands or discovering new bands. From the comfort of your living room or TV room, in your jim-jams or favourite comfy clothes, next to the fully stocked kitchen (where water is free), and a clean bathroom, fans get to watch their favourite performers rock out.
Seether joined the ranks of distance performers with their Locked & Live 'Si Vis Pacem, Para Bellum' show. The show coincides with the release of their eighth album Si Vis Pacem, Para Bellum (Fantasy Records) (review here). Accompanying the show was a rapidly moving chat feature where fans could talk to each other, or rather happily type to each other about the set list, lighting, songs, and well, anything.
The band took the stage with 'Beg' and then proceeded to play 'Country Song', 'Let You Down', 'Nobody Praying for Me', 'Save Today', 'Rise Above This', 'Bruised and Bloodied', 'Fine Again', 'Remedy', 'Words as Weapons', Betray and Degrade', 'Fake It', and 'Dangerous'. Best yet, Shaun Morgan did an acoustic solo version of 'Wasteland'. Seether played a concise and strong one hour set to happy fans. The band was well-rehearsed and in the pocket.
The show came complete with an awesome lighting show and the sound was perfection! Unlike some bands who hyper edit live shows in a Ritalin induced psychosis, Seether's director held the shots so you could see the Shaun Morgan (vocals), Corey Lowery (guitar), John Humphrey (drums), and Dale Stewart (bass). The cuts were fluid and mirrored how people longingly and lovingly look at band members on a stage.
The production was top notch all the way through. Some fans commented on the fading to black between songs. The engineer in me understands why this is done and applauds the engineers, director, and production team for doing this. It made the transition between the songs much better both visually and auditorily. The fans appreciated the lighting and how it translates through the online streaming platform. The mix was superb! You could hear the backing vocals from Corey and they blended well with Shaun's vocals. Yes, backing vocals / harmonies are supposed to blend, not ride above or below the main vocal. Humphrey's drumming timbre was flawless as it wasn't too loud nor too soft. It was mic-ed and mixed for optimal hearing.
People liked the fact that there was no beer line and that they could dance in their living rooms. Some notable comments from the comment section: "Guy sings and writes from the soul, that is why it goes deep when you hear it." "Every song is so good." "Shaun is one of the best singers around." "Haven't been this excited in months." "I am loving this. So what I needed." "This feels so intimate right now." And what must have been a gazillion times, "goosebumps".
From my computer and internet, I had no issues with buffering and streaming. A few people did, which is a drawback to streaming live concerts. However, a majority of fans were happy to see Seether live for the first time or for the fifteenth. Seether did right by their fans in having a live-streamed concert in conjunction with the release of Si Vis Pacem, Para Bellum. The concert was a total hit and enjoyed by all.
VICTORIA ANDERSON