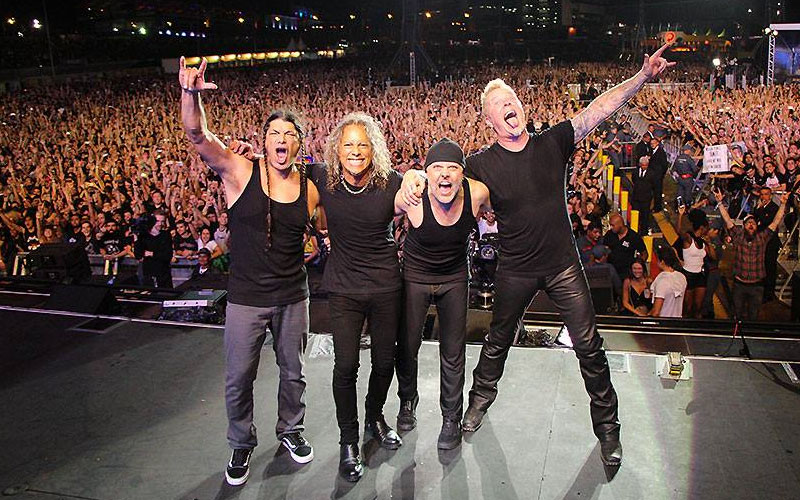 Metallica has just added another date to their upcoming North American tour. The heavy metal giants will be teaming up with Avenged Sevenfold and Volbeat for a special benefit show on June 9th at the Iowa speedway to help raise awareness and money for The Native Fund. Here's their official statement from Metallica.com: ""Newton, Iowa?" You ask… "that's a new one!" We're excited to announce that the WorldWired tour will make a stop at the Iowa Speedway in Newton, Iowa to play a special benefit show for the Native Fund on Friday, June 9. Our tour mates Avenged Sevenfold and Volbeat will join us at the NASCAR track nestled between Cedar Rapids and Des Moines.
The Native Fund was founded by actor Ashton Kutcher and NFL star Dallas Clark in 2008 as a way to give back to the local residents of the state they both grew up in. They are committed to raising funds and organizing resources that can be used to assist the people of Iowa in their times of need including relief through its financial and programmatic resources to Iowans suffering from a natural disaster, to post-9/11 veterans who are in need medical or other assistance, and to children afflicted with life-threatening illness or disease.
Tickets for this benefit concert will be available to Fifth Members in a pre-sale starting on Wednesday, April 19th at 9:00 AM local time. Members should log in for more details and exact on-sale times. The general sale starts on Friday, April 21st at 10:00 AM local time here at Ticketmaster.com.
We're honored that Ashton and Dallas invited us to be a part of this special event and look forward to giving back to a state that has been so supportive of Metallica throughout our career. Hope to see you there!"