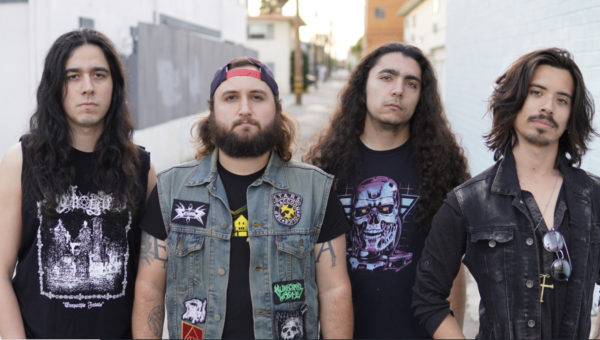 Los Angeles metal label Metal Assault Records will release the new album from San Diego Thrashers Malison this week, September 3rd, 2021. The band and label have teamed up with Ghost Cult to bring you the full album stream before you can buy it today! Pre-orders are live at the link below. With killer musicality and an uncanny penchant for fantastic vocal melodies, Malison marries the classic vibes of the genre with a modernist prog touch that will please heshers and metal nerds alike! Crank this one to 11 and jam it out now!

Pre-order Death's Embrace now at: https://Malison.bandcamp.com
Recorded at San Diego based Plaudit Studios, Malison's second studio album Death's Embrace will be released by Metal Assault Records on September 3 2021. Pre-orders for Death's Embrace are available now on digipack CD and digital formats. Multi-colored vinyl LPs are also available to pre-order and are limited to 200 copies only. The colors for this vinyl run include white, red, blue, yellow, purple, turquoise, green, silver and gold.
In addition to the standalone CDs and LPs, Malison has issued two types of special edition bundle packages for the Death's Embrace pre-order campaign:
CD + pre-order-exclusive t-shirt + logo patch
Vinyl LP + pre-order-exclusive t-shirt + logo patch
The t-shirt included as part of these bundles is based on an alternate album cover design, and will be available exclusively as part of the pre-order bundles (limited to 100 shirts).
Death's Embrace track listing:
Reborn (4:28)

M.A.D. (Mutually Assured Destruction) (4:39)

Death's Embrace (5:37

Lifehunt (3:14)

Oblivion (5:04)

Corrosion (3:49)

Absent Earth (4:19)

Armata (4:39)
Total Runtime: 35:49
Malison is:
Steve Rondina (Vocals/Bass)
Eddie Spade (Guitar)
Mario Lovio (Guitar)
Nick Mafi (Drums)
Follow Malison:
https://www.facebook.com/Malisonband
https://twitter.com/TeamMalison
https://www.instagram.com/Malison_official