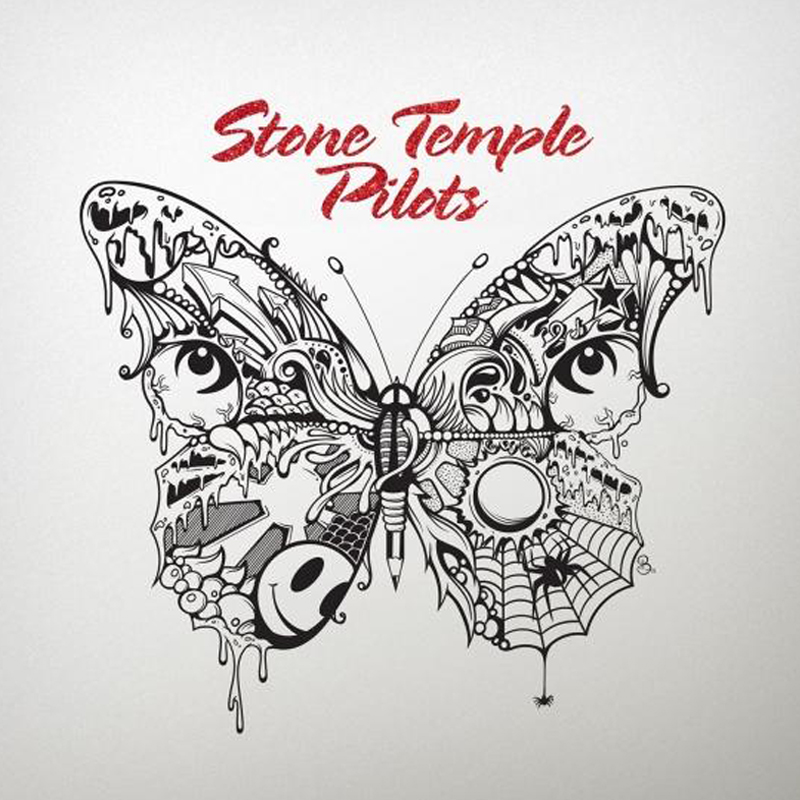 One of the hardest things for veteran bands to do is overcome expectations. Especially if you have reached legend status, it's tough to live up to the hype your own fan base can hang on you. Tougher still is when you have to overcome adversity to do it, and honestly, a lot of acts don't recover. Stone Temple Pilots have remained musically consistent in their career, even when things didn't go a planned. If you can name a major rock band that has had two iconic lead singers pass away and recover, let me know. In the end, it's all about how you battle back. And in that regard STP have proven they have a real punchers temperament on their new self-titled album (Rhino).
No, you are not tripping out, STP has released another self-titled album, their last full-length being from 2010. However, the new one really signals a rebirth for the band, which they desperately needed after some years away. The past sounds of the band are certainly guiding them, but this new music from the band sounds fresh, hopeful, and grown. There are some sublime moments of energy and youthful fire, but this is a band that knows who they are. They don't need to change or jump on trends, they are ST fucking P!
Let's get the 800 lb gorilla in the room out-of-the-way; Jeff Gutt rules! Yes, he has a quality of his timbre that will call to mind a youthful Scott Weiland. I've no problems with this as the main job coming into the band for him will have to be recreating the vibe of their classic material. There is no time when he directly apes the late frontman's nuances and phrasing, just that they sound similar. While there is a familiarity in his tone, he is own singer and definitely brings his "A" game to the music. STP has written some material that calls to mind the best tracks the band has done, almost like a brand new greatest hits if you will and Gutt blends in beautifully. He definitely is his own man, but you have to give him props for stepping in and stepping up huge.
Opening track 'Middle Of Nowhere' is a raucous garage rock jam. I broke out in an immediate shit-eating grin when the chorus hit, with its slick guitar licks and humble refrain. Like popping the top off a beer after a long day of work, it just works. 'Guilty' follows it up with a straight-forward jam feel. Driving beats form Eric Kretz and lovely layers of guitars make the track go. Dean and Rob DeLeo just know how to write great anthemic classic rock sounding songs by the bucket load. They also co-produced the album with a beautiful sheen. Every instrument heard and nothing buried.
All of the influences you've ever hear from STP, Beatles, Zeppelin, Stones, Pixies, David Bowie, to 1960 garage rock; they all live here. 'Meadow' definitely lived up to the hype as the first single and will give you the same feels as 'Big Bang Baby' did when it dropped. 'Just A Little Lie' is so catchy and full of amazing great 70s rock vibes. The solo is one of the best and most original rock leads I've heard in a while. Dean DeLeo never gets enough credit in my mind and does so much naturally without overusing overdrive or other effects. Just his typical Jimmy Page-esqe style of playing.
'Six Eight' is wonderfully contemplative on the verses, yet rocking hard on the big chorus. I can see this being a massive sing along live. Gutt delivers so much feeling in every line, it really brings this song to the top for this album. This is the kind of song that only works when a veteran band shows what they can do. 'Thought She'd Be Mine' has the folksy-country rock of The Eagles or Stones and could be a surprise at radio. Let you think these guys have gone soft, 'Roll Me Under' rocks hard and has an urgency all around that I dig. 'Never Enough' is another uptempo rock jam.
"Never Enough' and 'The Art of Letting Go' are both fine tracks. Two sides of the same coin, the light, and dark that is this band.
'Finest Hour' continues the chill late 70s vibe. It almost falls into ballad territory, but it's not at all sappy. 'Good Shoes' has another tough beat and a percolating bass-line throughout. Closing song 'Reds & Blues' is an interesting choice to close on. It definitely has themes of dependency and loss, which cannot possibly be lost on the writers or any longtime fans that hear it. Beautifully harmonized vocals and sunny melodies can't hope to cover up the grief they have suffered and are expressing here.
Stone Temple Pilots is an album that matches up on every level to the best material the band has ever made. Without trying to copy themselves, that have made fresh new tracks that flow seamlessly together like great chapters in a book. And their story continues.
Welcome back, guys.
8.5/10
KEITH CHACHKES