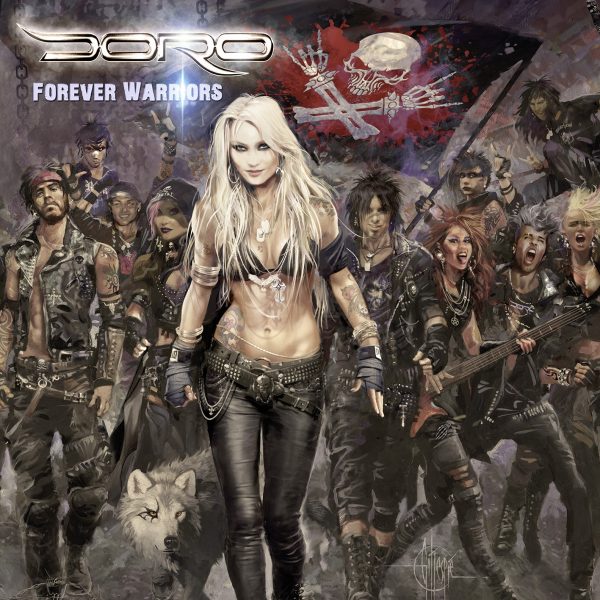 Inspiration can hit at any time, and for German metal legend Doro Pesch, that time was on her way to the funeral of rock legend Lemmy Kilmister of Motörhead in December 2015. Having been friends with Lemmy for many years, Doro felt she needed to pay tribute to the man in the best way she knew, and on the flight over, the lyrics and melody for the song which would become 'Living Life to the Fullest' began to form in her head and the long road to this double album began.
In truth, her thirteenth full-length solo release since leaving former band, Warlock, Forever Warriors/Forever United (Nuclear Blast) feels like two different records put out at the same time rather than a standard double album. Consisting of two distinctly separate parts, the first disc, Forever Warriors, is a wilder, more raucous affair than its more introspective counterpart, Forever United.
Kicking off Forever Warriors is the album's first single, 'All For Metal', an instantly classic catchy metal anthem with a mighty Manowar chorus. This is followed by the fast-paced chugfest of 'Bastardos', an old-fashioned fist-pumper with a spankingly good 'Breaking the Law' style opening riff. The sinister sounding duet 'If I Can't Have You – No One Will' is a blackened ballad that takes a while to settle into itself, but does feature a reliably impressive vocal performance by Amon Amarth frontman Johan Hegg.
The rest of …Warriors is made up of solid rockers such as the radio-friendly riffery of 'Turn it Up', the more direct 'Blood, Sweat and Rock 'n' Roll', and closer 'Backstage to Heaven', all of which, albeit in different ways, proudly extol the virtues of all things heavy and metal. There's also an efficient if not particularly overwhelming cover of 'Don't Break My Heart Again' by one of Doro's favourite acts, Whitesnake. Meanwhile, songs like 'Soldier of Metal', 'Love's Gone to Hell', and the entirely German 'Freunde Fürs Leben' slow things down a little with strings, piano and moody riffs.
The second disc, Forever United, opens strongly with 'Résistance' before settling into power ballad territory with songs like 'Lift Me Up', 'Heartbroken', and '1000 Years'. The heavier sounding 'Love Is A Sin' and 'Fight through the Fire' stop things from becoming too maudlin, but as you would expect, it's the aforementioned 'Living Life to the Fullest' which stands out as the album's undisputed highlight; a passionate song featuring a beautifully emotional vocal performance by Doro. The second disc also features an enjoyable cover version of Motörhead's 'Lost in the Ozone', an underrated track from their 1993 Bastards (ZYX) album. Unfortunately, every yin must have its yang, and the second disc also features the quite horrific pop music warblings of 'It Cuts So Deep'. Limp, forgettable, and eminently skippable.
With no line-up changes from 2012's Raise Your Fist (Nuclear Blast), guitarists Luca Princiotta and Bas Maas, bassist Nick Douglas, and drummer Johnny Dee are assisted this time by former Warlock guitarist Tommy Bolan, and Whitesnake axeman Doug Aldrich. Even at the age of 54, Doro's voice remains in fine condition. Emotional, raw and powerful, there's an occasional telltale wobble or crack, but nothing that you wouldn't expect from someone midway through their sixth decade.
Although containing a healthy share of quality headbanging material, twenty-five songs across one double album is a bit much, and as a result, both records sag around the waistline by including some tracks which could have been relegated to bonus material, and a handful of others which might have been better off being omitted entirely. Otherwise, pretty much everything you could want from a Doro release is waiting for you here again, just more of it than usual.
7.0/10
GARY ALCOCK